Harvest Restaurant Oro Valley AZ
Harvest Restaurant Oro Valley In Northwest Tucson AZ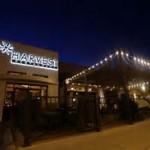 Harvest Restaurant Oro Valley is located at the southwest corner of La Canada and Lambert. Harvest Restaurant Oro Valley is locally owned and operated. Harvest Restaurant is one of our top 10 choices and strongly recommended to our clients and guests.
This great Oro Valley restaurant offers a fresh and seasonally inspired menu. All items are made from scratch. And for the health conscious diner no preservatives are used in the food. When ever possible all menu items us locally grown ingredients purchased from local purveyors.
This supports a philosophy that homemade dishes made with fresh  ingredients will always taste better. The seasonal menu will usually have about 10 to 12 items. As the seasons change so does the menu. However the high quality remains the same.
The Harvest Restaurant Oro Valley also offers an wine list featuring local wineries and smaller vineyards from around the world. Italy, France, New Zealand and Chile are of note. Menu items are priced to encourage customers to return again and again. That approach works well in Tucson and Oro Valley Arizona.
Having the owners family working at this Oro Valley restaurant also encourages a warm and friendly atmosphere. Harvest Restaurant Oro Valley has a quiet bar, comfortable indoor dining and an outdoor patio dining area as well.
Harvest Restaurant Oro Valley has a happy hour times 2. The first is from 3 to 5:30 PM. A second happy hours is from 8 PM to closing. The drink offerings cover a wide range of popular libations from Arizona Redneck to sarsaparilla. Many local beers and a wide variety of familiar brands are available.
Harvest is very popular, so phone ahead for a reservation.
Harvest Restaurant Oro Valley is located at 10355 N La Canada in Oro Valley AZ. MAP
Phone 520-731-1100
Moving to Tucson Arizona or considering a future place to retire? We can help!
Call us at 520 940 4541 or submit our Contact Form and we will get right back to you.