Red Lobster Oro Valley Restaurant Review
Red Lobster Oro Valley Location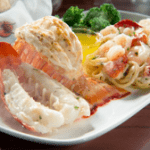 Red Lobster Oro Valley is located in the Oro Valley Marketplace. This makes getting a seafood fix and easy trip.
The original Red Lobster was started in Lakeland, Fla. in 1968. Today, there are over 680 Red Lobster locations in the United States and Canada.
This giant seafood restaurant chain has brought fresh calamari, snow crab and key lime pie to the Sonoran desert of Tucson AZ. As well as special fish and lobster items.
Red Lobster Oro Valley is definitely one of the areas favorite chain restaurants. It is the spot to go when you're hungry for Lobster & other shellfish and don't want to spend alot. Casual and reliable all the Red Lobster Oro Valley provides good value, good service and good food.
The food at Red Lobster Oro Valley is a regular chain menu but it's pretty good. Especially those famous cheddar bay biscuits!
How does Red Lobster do it? These cheddar bay biscuits are over the top good. Some people may possibly search for a healthier item. Buy why? I don't understand why.  The light, airy texture and the aroma and flavor of cheese and garlic is almost addictive.  Is there a concern about to much cholesterol? NO way!  You can't eat just one!
Red Lobster Oro Valley is part of a large restaurant chain and that tends to create potential trouble in service and consistency in food preparation. Although not every review is great, Red Lobster Oro Valley AZ is highly rated. Good food, good service and good prices.
There is a children's menu available at each Red Lobster Oro Valley restaurant. Red Lobster promotions are available for seasonal seafood special and holidays.
The Red Lobster Oro Valley AZ is located at:
Oro Valley Marketplace
11695 N Oracle Road
Oro Valley, AZ 85737
Phone: (520) 544-7887
MAP
Red Lobster is open
SUN – THU 11:00 A.M. – 10:00 P.M.
FRI – SAT 11:00 A.M. – 11:00 P.M.
Moving to Oro Valley AZ or planning for that future retirement? We can help!
Call us at 520 940 4541 or submit our contact form.